Templates for Lead Capture AI empower businesses to customize their web experience to optimize for leads. Users can manage their configurations from within the Aurora app.
Note: Only admin users are able to view and edit Lead Capture AI templates.
View Settings for Lead Capture AI
Navigate to Settings

Under "Application", click on "Lead Capture AI"
Lead Capture AI Templates
From the Lead Capture AI application settings page, users will find a list of Lead Capture AI templates, including each template's Org ID and API Key. From this page, users can:
Create a new template

Edit an existing template

Delete an existing template
Create a new Lead Capture AI Template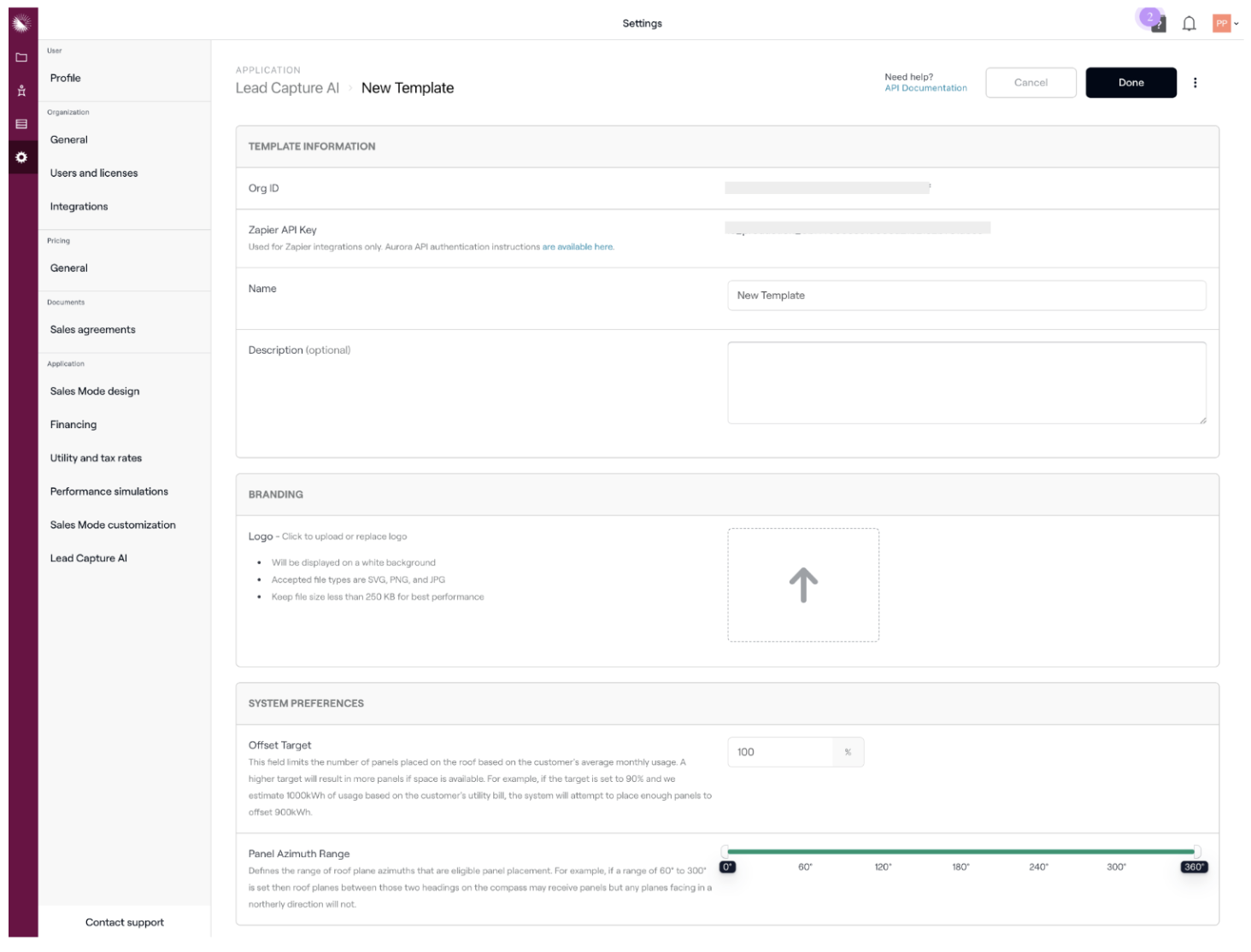 1. Click "New Template" on the top right of the screen
2. Fill in Template Information
Template Name
Description (optional)
3. Fill in Branding
Logo file

Will be displayed on a white background
SVG, PNG, JPG accepted
Keep file size less than 250KB for best performance
4. Set System Design Preferences
Offset Target: This field limits the number of panels placed on the roof based on the customer's average monthly usage. A higher target will result in more panels if space is available. For example, if the target is set to 90% and we estimate 1000kWh of usage based on the customer's utility bill, the system will attempt to place enough panels to offset 900kWh.
Panel Azimuth Range:

Defines the range of roof plane azimuths that are eligible for

panel placement. For example, if a range of 60° to 300° is set then roof planes between those two headings on the compass may receive panels but any planes facing in a northerly direction will not.
5. Set User Experience Preferences
Show Savings Estimate: If checked off, the solar estimate results page will remove any financial savings estimates from the homeowner. It will show the system's # of solar panels, hours of sunlight, and % energy offset.
Require contact information to view results: If checked off, the lead capture form will surface after the homeowner sees the results.
Qualification Questions:

Select which qualification questions to add/remove from your flow. Address and utility bill are required.
6. Click "Done"
Once you've created a template, you can use the Org ID and API Key located on the Template page for implementation on your site.
To learn about the technical implementation for Lead Capture AI, navigate to our Lead Capture AI technical docs here.