Aurora is proud to announce our new partnership with Google, granting unprecedented HD imagery access to all our customers and an expanded map of 3D imagery to our Premium customers!
HD Imagery by Google
Now all Aurora customers will have access to a new high-definition source of satellite imagery for designs--Google's HD imagery. Where available, the new HD images will display by default, allowing you to design with unprecedented accuracy.
| | |
| --- | --- |
| | |
| Standard Google Satellite Image | Google HD Image |
Standard Google imagery and Bing imagery will still be available to you under the imagery dropdown, as well as Nearmap HD for a nominal fee.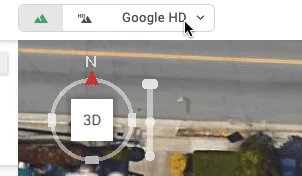 LIDAR by Google
For our Premium users, Google 3D will expand the coverage map of our existing LIDAR data, unlocking LIDAR benefits to a wider range of sites in the US and opening LIDAR to select areas internationally.
*International Google 3D data shows approximate location
Simply load LIDAR, and Aurora will select Google 3D or Aurora LIDAR automatically, based on coverage area.
To view or switch your data source, just go to LIDAR settings.