This guide is designed to help users complete the Plan Sets intake form. It provides additional information on the minimum content required in the form, and which images from the site survey should be included in the photo uploader section.

All the required fields and photos are necessary for an accurate plan set to be created. In the absence of any of the required fields or photos, the Plan Sets request may be rejected.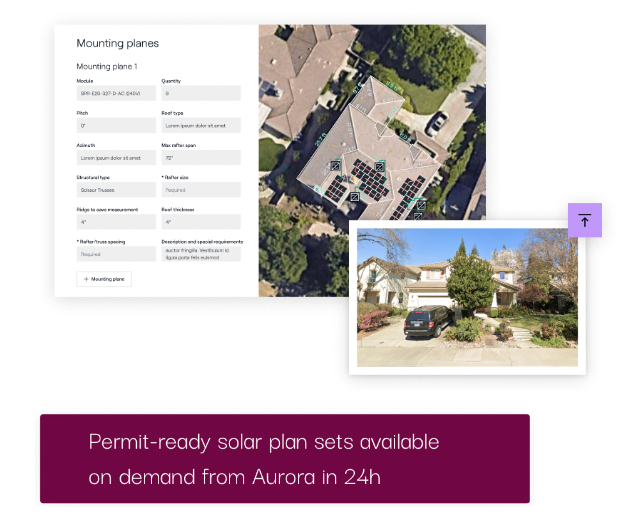 Table of Contents:
Project Information
Project name, address and utility information will fill automatically. 
If homeowner information is filled out in the Project Overview, the fields will auto-populate.  Otherwise, be sure to complete the homeowner information fields. 
Be sure to complete the required fields in this section:
Authority Having Jurisdiction (AHJ) information
Contractor information

You can also request the Stamps in Plan Sets service from the project information section. Learn more.
Mounting Planes
Pitch, azimuth and array information will fill automatically from the Aurora model.
Be sure to fill in each mounting plane.

Electrical
All electrical fields are required.
Add additional subpanels as needed. 

Storage
Within the electrical tab of the plan set request form, toggle on the Energy storage system to reveal the ESS section. 

Fill out the storage section to provide additional information. 
All fields are required except the General ESS Notes. 
Once the information has been entered, review the fields under the Electrical section of the Project Information.
Note: Initially, Aurora will only support storage in plan sets for four popular storage options, please reach out to your CSM if your desired solution is not available:
Tesla Powerwall 2 and Powerwall +
Generac PWRCell
Enphase Encharge
Any DC-coupled battery with SolarEdge Storage-Ready equipment

FranklinWH

SunVault

Sol-Ark
Racking and Attachment
All racking and attachment fields are required.

Images and Documents
At a minimum, please include photos of the following:
Main Service Panel
MSP label
Meter
Full picture of location of BOS components
Rafters on which design will be installed
Roof on which design will be installed
Any subpanels

Review and Submit
Once all the project information has been added to the corresponding section, please review before submitting the Plan Set request.
If you need to request a revision to your Plan Set, check out this related article.