Overview
Aurora has now integrated your design tool, CAD, and site survey data into one platform, allowing you to request permit-ready plan sets for your sold designs without leaving the platform.
You can streamline and standardize your data-collection process through an automated online tool that collects and stores site data for plan set design, engineering, permitting, and other post-sale needs. Once the data is collected, you can submit a request for a solar permitting plan set package directly from Aurora.
Accessing the Tool
Access new Aurora
This feature is ONLY available in new Aurora; to access it you must enter new Aurora.
1. From the Aurora app, open the drop-down menu under your name in the top right corner and click Try out the new Aurora.
2. If you don't see it, enter the URL v2.aurorasolar.com instead of app.aurorasolar.com.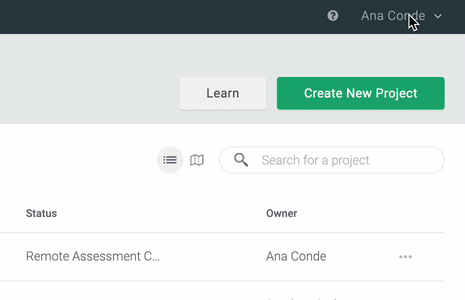 Select a Project
From the Project Dashboard, select a project that has been designed and sold on which the site survey will be performed.

Note: the Site Survey requires the project to have a design. Create a design, then select the project.
Start Plan Set Intake Form
On the Project Overview, click Start Site Survey Form.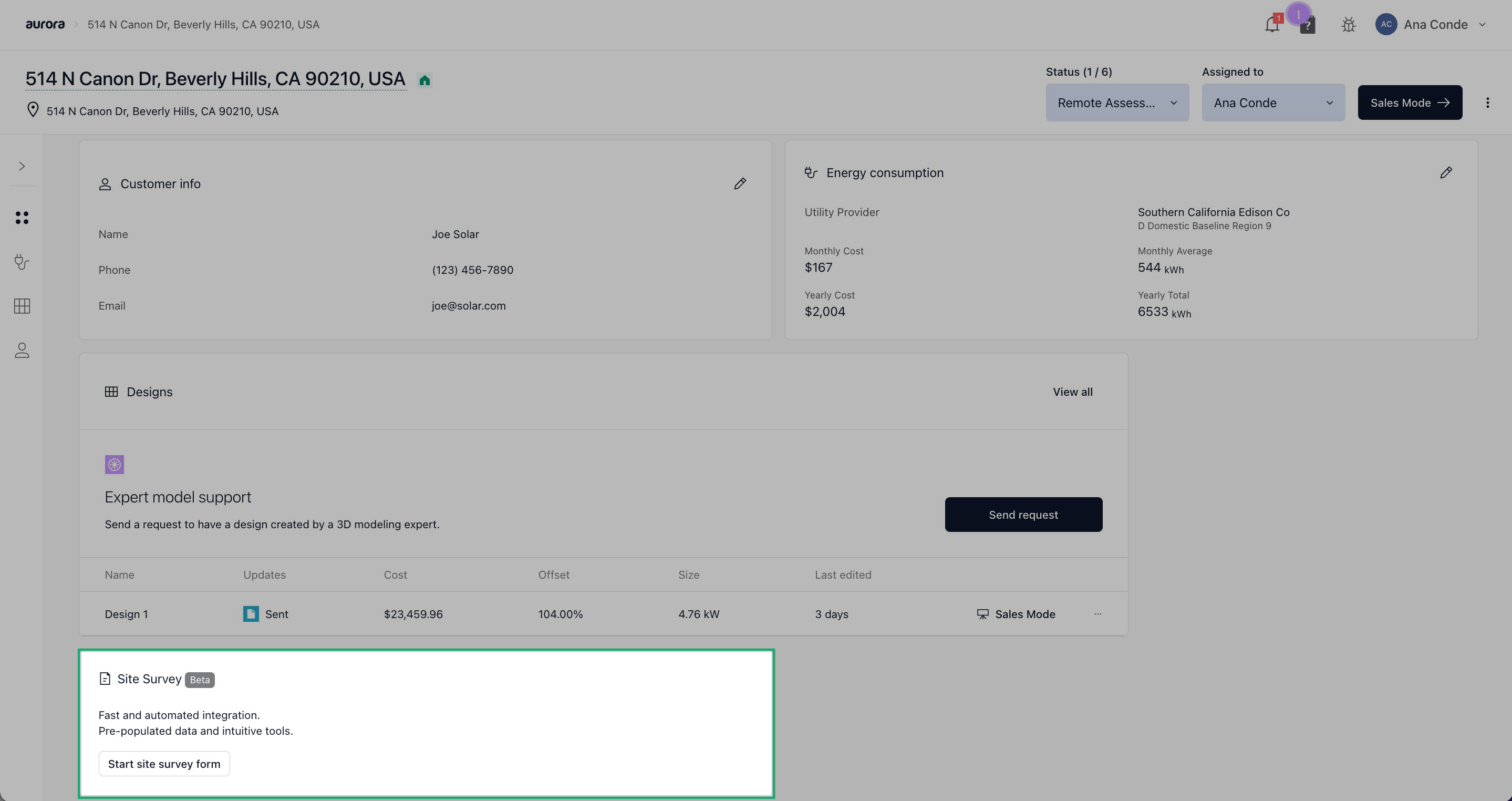 Site Survey Form
Assign the Site Survey
1. Select the design that was sold from the drop-down menu. It will default to the most recently edited design if nothing is chosen.
2. OPTIONAL - Type in the site surveyor's email address to assign a site surveyor to fill out the form.
3. Click Create form.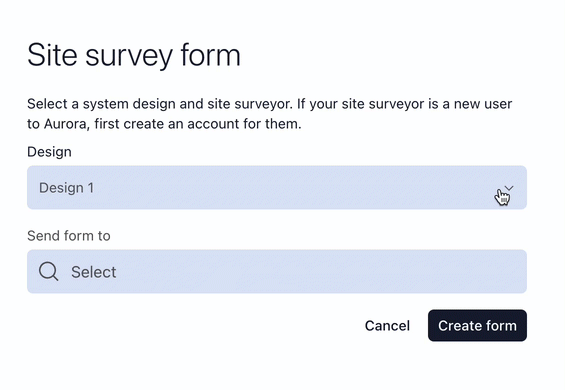 Note: The site surveyor will need an Aurora log-in for the email to populate in this field. Make sure they are added as a user.
4. Once assigned, the site surveyor will receive a link via email to bring them directly into the Site Survey Form for that design.
Fill Out Form
1. Fill out the Site Survey Form from a desktop computer or mobile device. The mobile view may differ slightly from the desktop view.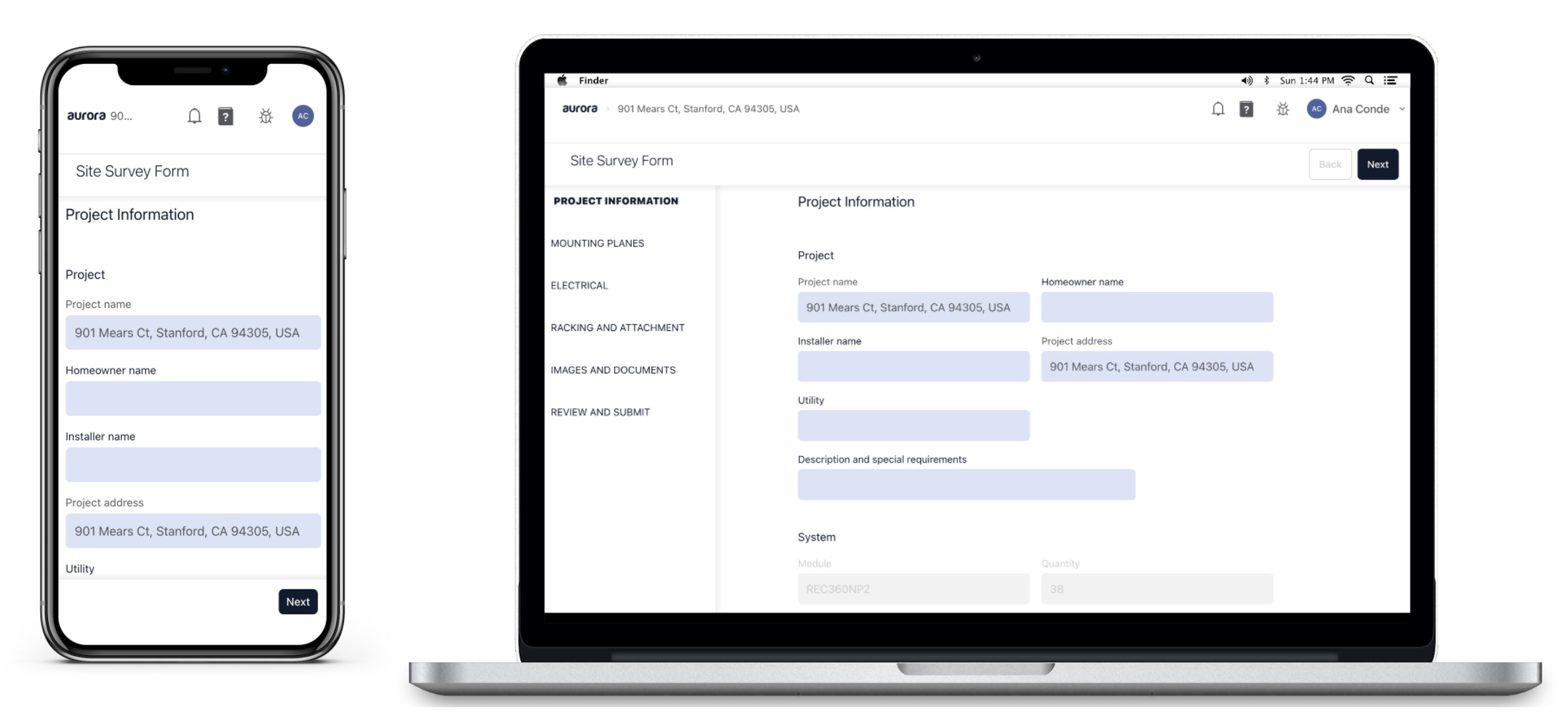 2. Some of the project information will be automatically populated into the Site Survey Form based on the design. Fill out any remaining fields. Fields will be auto-saved.
Note: Although not every field is required, try to include as much information as possible. We understand that processes and minimum requirements vary across users, so we made this form broad and inclusive, but unpopulated fields won't restrict you from completing the survey if you don't need them.
3. Click Next to move to the next section.
Note: The Racking and Attachment section is only accessible to project managers; site surveyors will not be able to edit this section.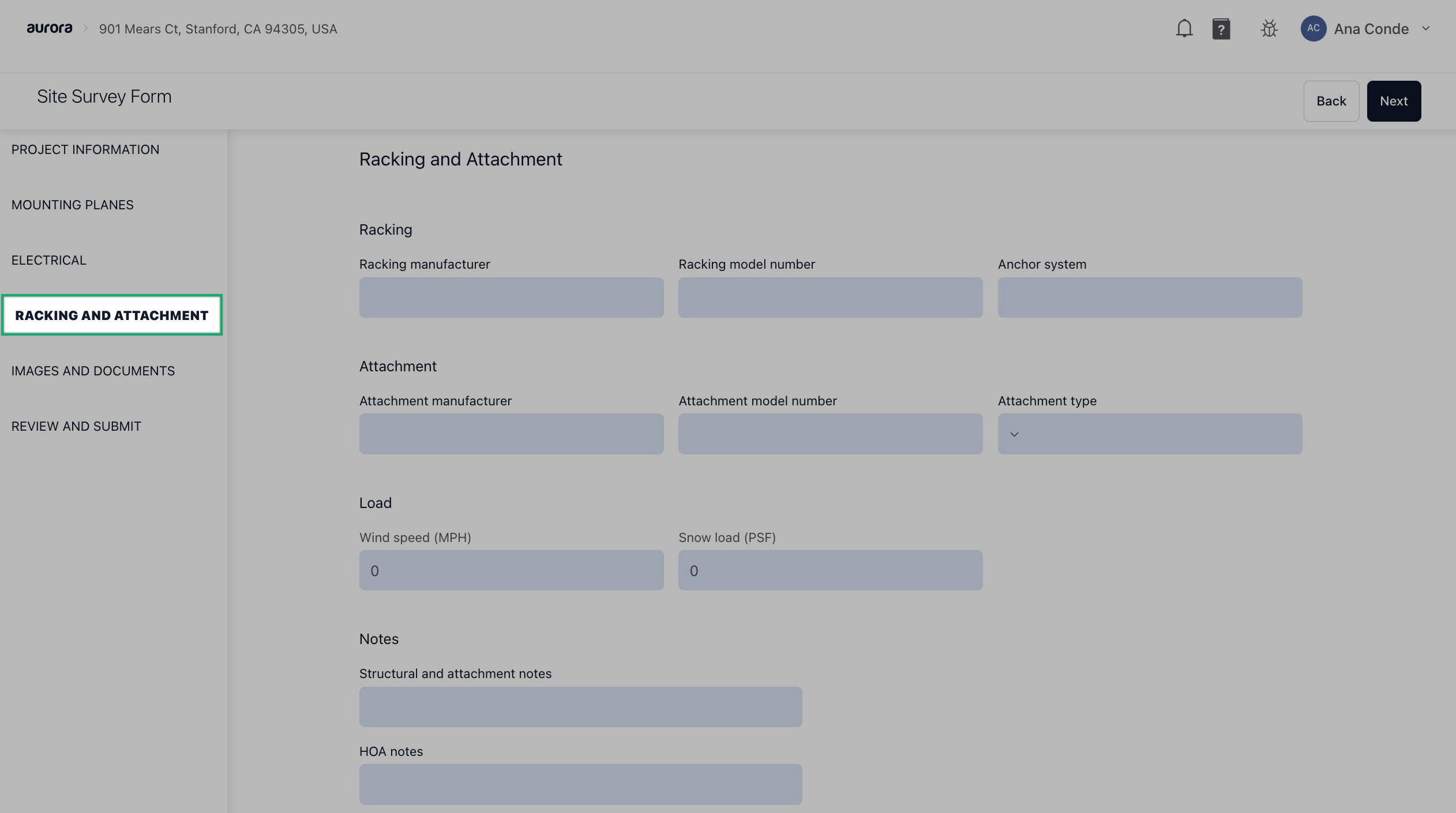 Provide Link to Photos
1. Upload any photos taken during the site survey into a shared drive and share the URL.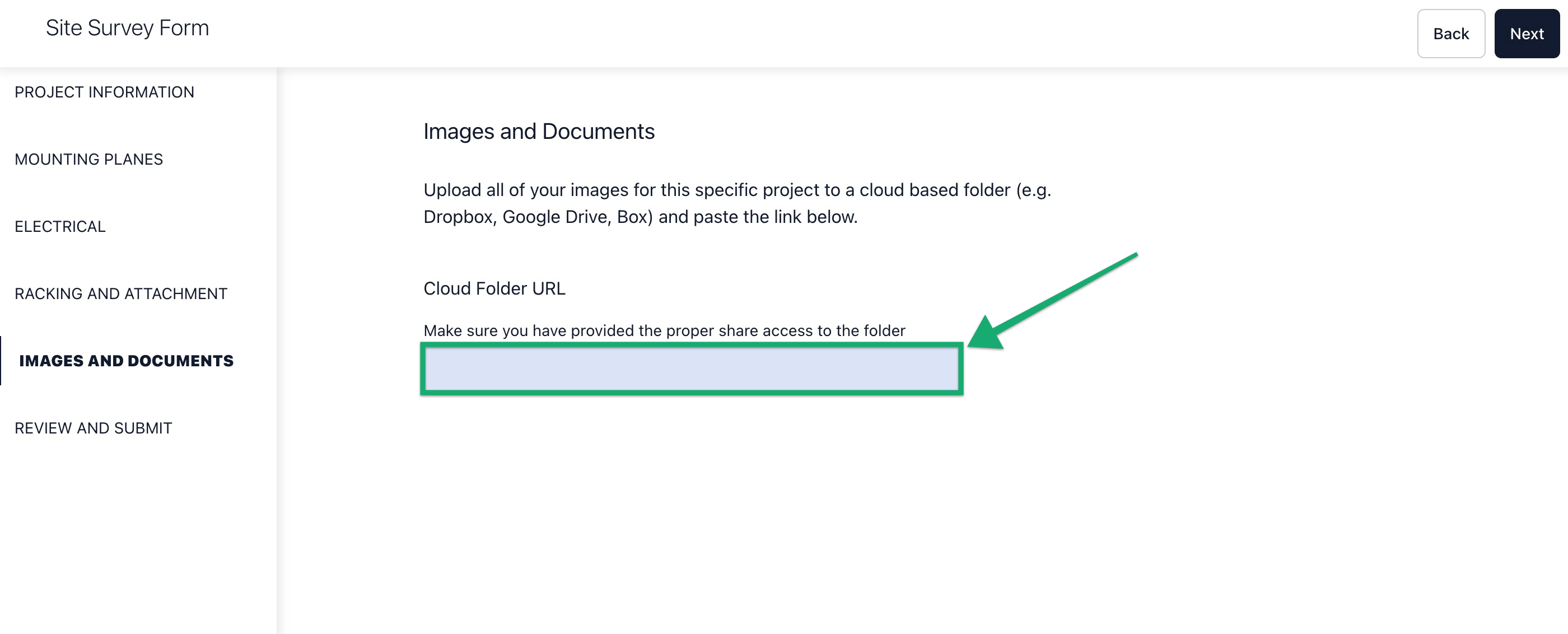 Review Form
1. Review that all the information has been filled out and photos are linked properly.
2. Print the preview as a PDF.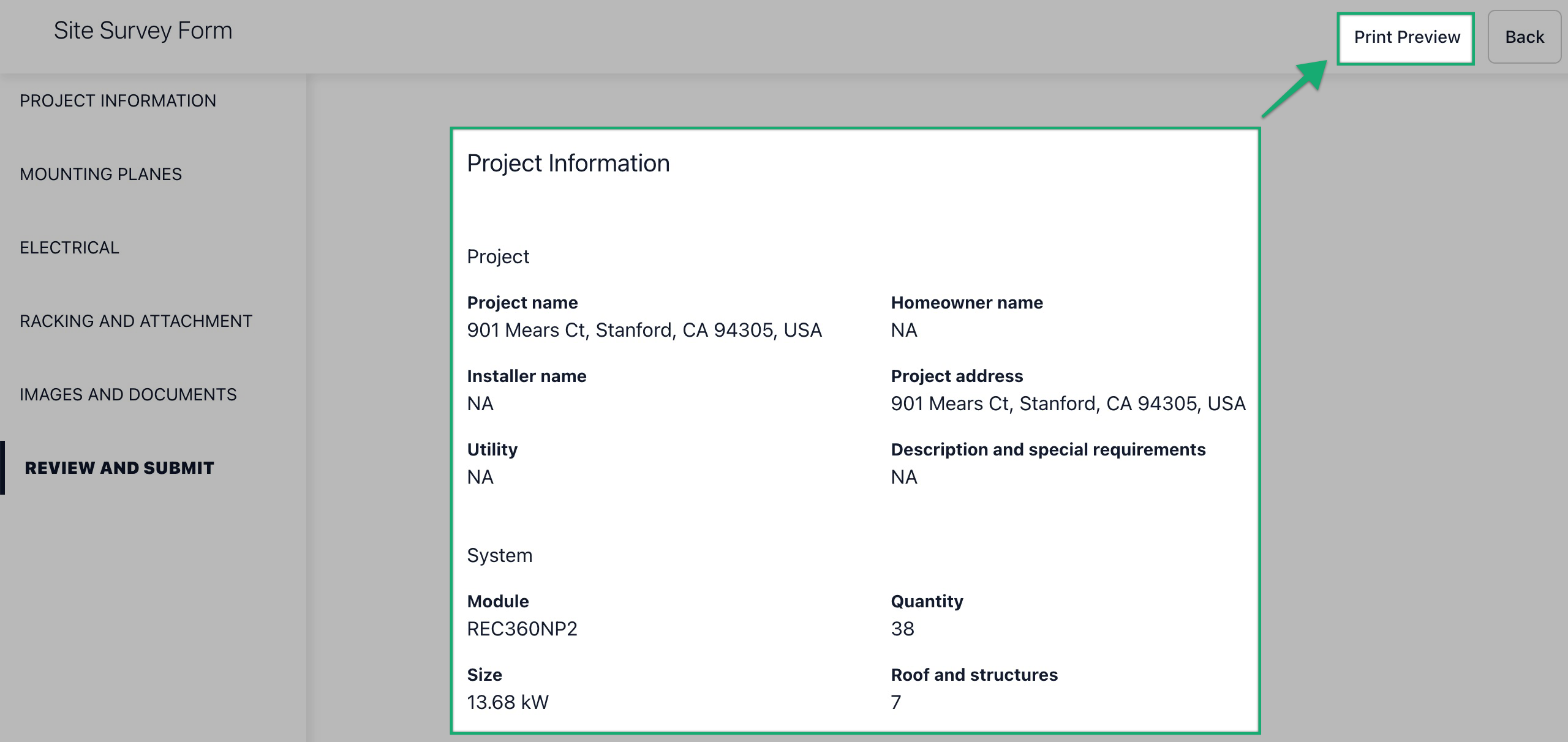 3. You have reached the end of the Site Survey Form. Contact the assignee outside of this form for their review.
Requesting a Plan Set
Submit Form
1. Click on Request Plan Set to request your plan set.

You will then receive the completed plan set via email within 48 hours!
Note: If you require quick support or a revision to something already submitted, please reach out to permitting@aurorasolar.com to get direct support from the design team.
Review Plan Set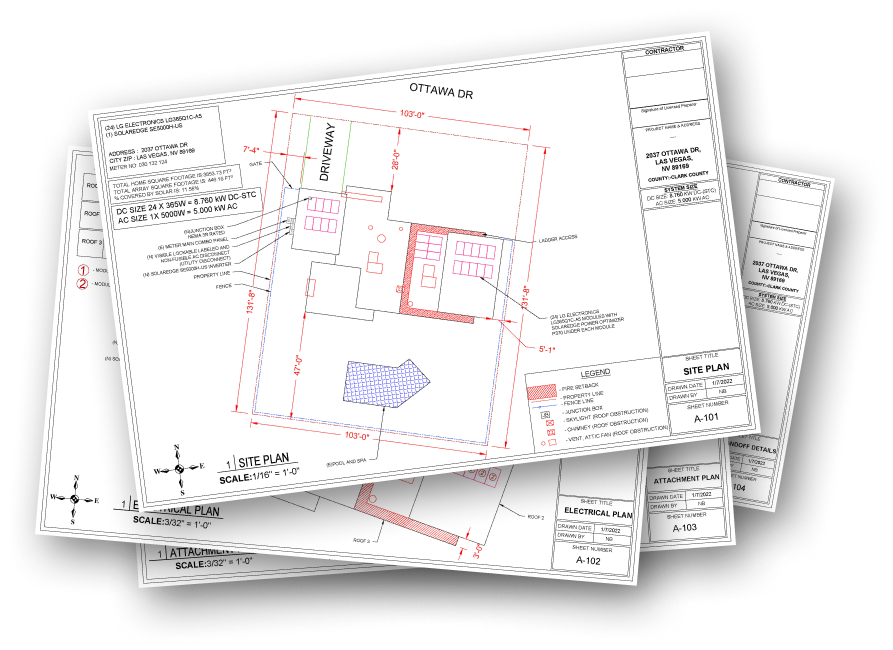 Review the plan set once received.

Respond to the email with a detailed description of any required revisions or changes.
To learn more or to sign up for the waitlist please visit https://www.aurorasolar.com/solar-permitting-plan-sets-service/