Overview
Sales mode is a powerful new tool from Aurora that allows you to quickly create a polished proposal in a streamlined and intuitive workflow to present to your customers.
To launch sales mode, simply click the 'Sales Mode' button from any project and either select an existing design or create a new one. You can also select to enter sales mode by selecting a design and then clicking "Present Design".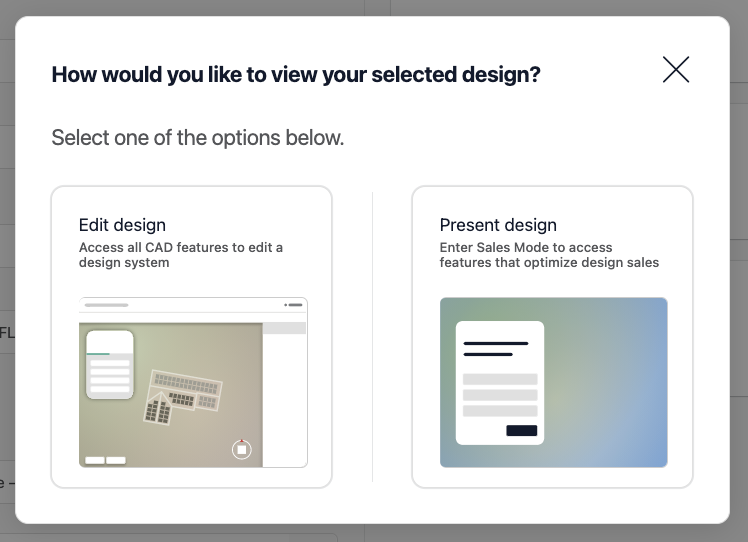 Energy Usage
The Energy Usage page allows you to enter as little as a single bill for your customer and project the yearly energy profile to better gauge the offset that your system will profile.

System Design page
How to create a site model:
Design

Mode

Design mode gives you full control over the site design for your project. For information about how to build an accurate 3D model for your property click here for a list of helpful articles and how-tos.
Expert Design
Have one of our experienced designers complete the 3D model for you. For more information about this service, please click here.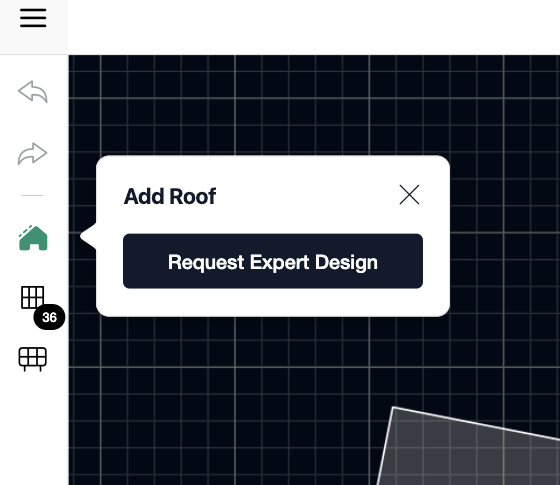 How to place + toggle panels + run simulation
Once you have your site model you are ready to proceed to system design and build out your PV system.
To place panels in your design, click on the Add Solar Panels icon on the left-hand side, select your chosen panel and orientation and click "Place". This will generate a "max fit" design.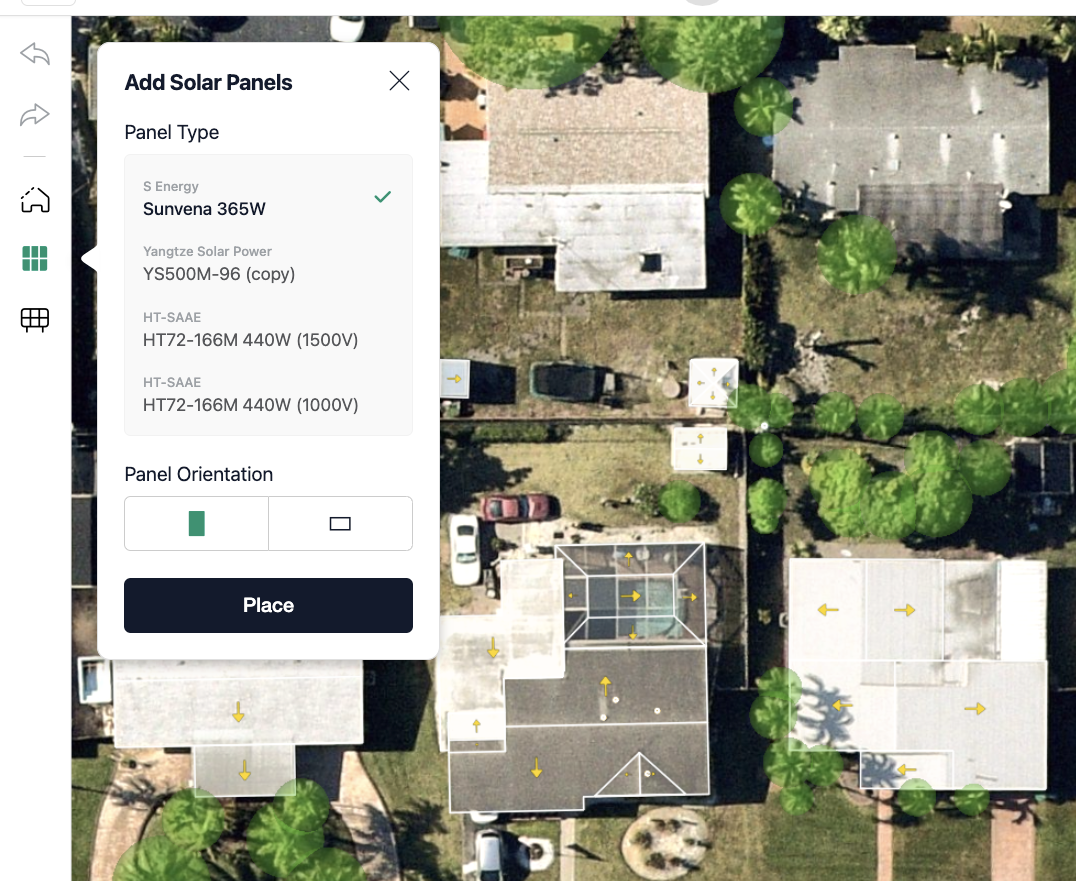 To toggle panels off, you can click on certain arrays which will deactivate all panels in that array. To turn off only certain panels, click and hold your mouse button and then drag your cursor over the panels you wish to deactivate. To reactivate panels, simply click on the inactive panel and note the color change.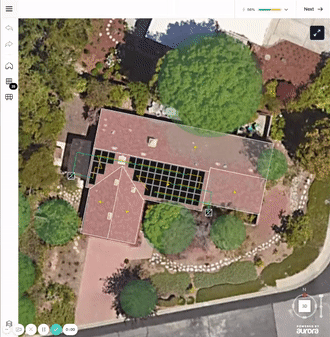 To create a ground-mount system use the ground mount icon and place your system in the desired location. You can then adjust panel selection, size, height, tilt and azimuth of your array.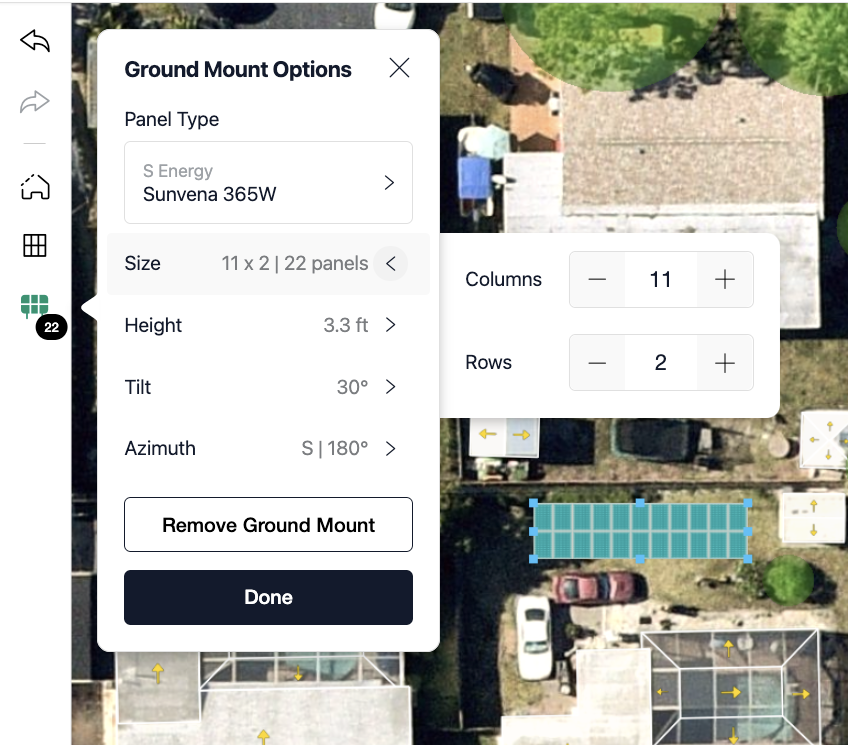 How to toggle view settings
By clicking on the stacked layers icon in the bottom left hand corner you can toggle certain elements of your design on or off to provide additional details to your customer or to aid in your own design process.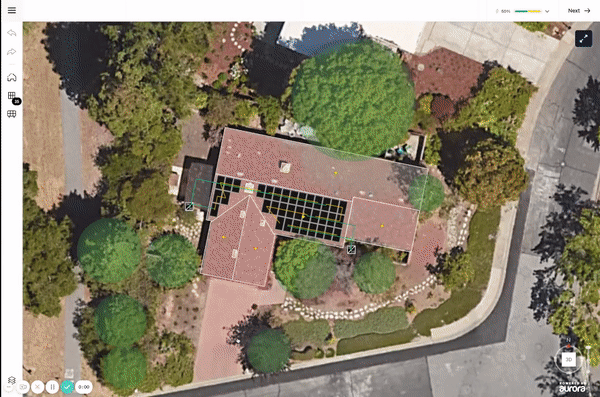 Environmental Impact
The Environmental impact page shows certain key figures to help your customer understand how they will be benefitting the environment. These calculations are based on EPA studies which can be found here.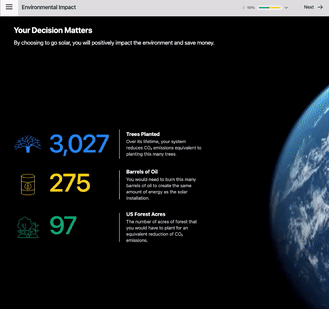 Utility Bill Cost
The Utility Bill Cost page is an overview of the impact that your proposed system will have on the customer's utility bill from a financial perspective.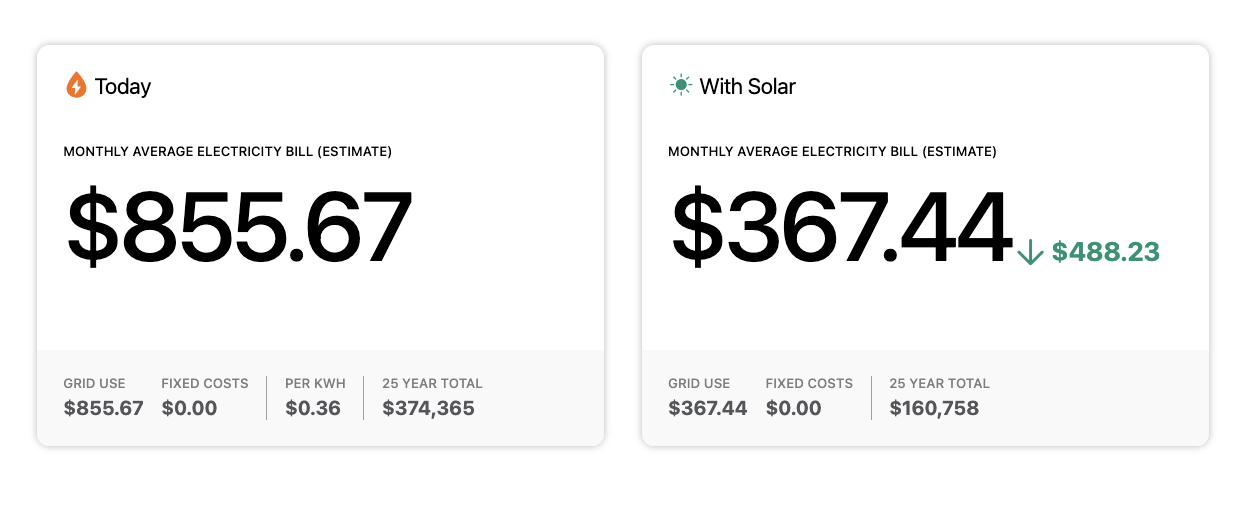 Click the Preview Bills button to get a year-by-year view of the pre and post-solar energy bills over the life of the system.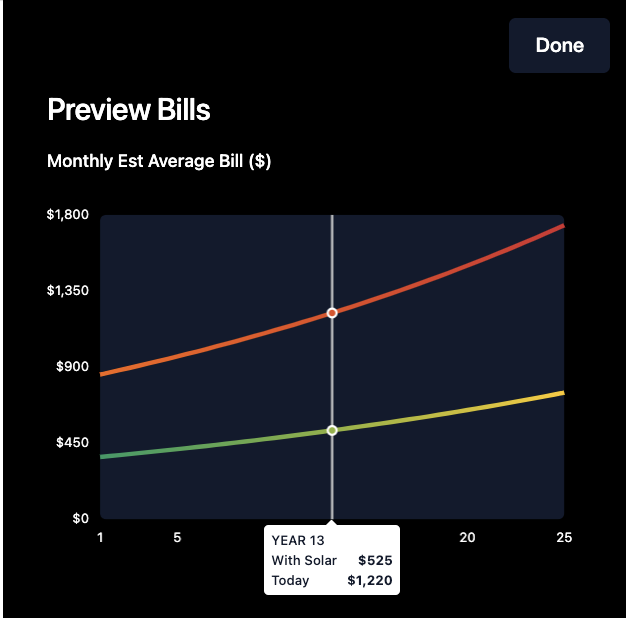 Click on the Usage Details button to see a month-by-month breakdown of the energy consumption vs. production.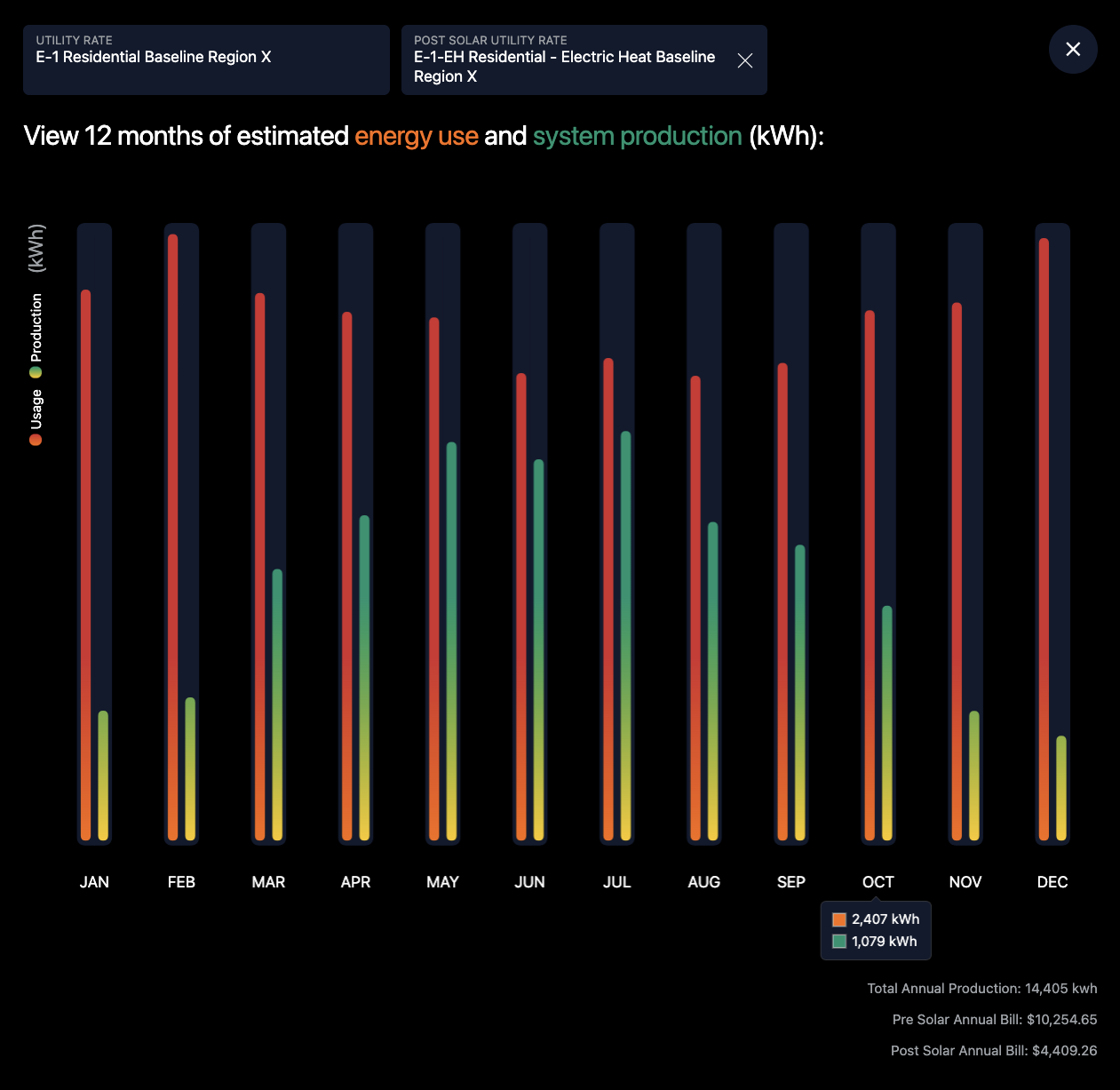 System Summary
The System Summary page allows you to see a final list of your system components as well as set a price and review different pre-configured payment options (Loans, Leases and PPAs) as well as configure any incentives, adders, or discounts that would affect the final price.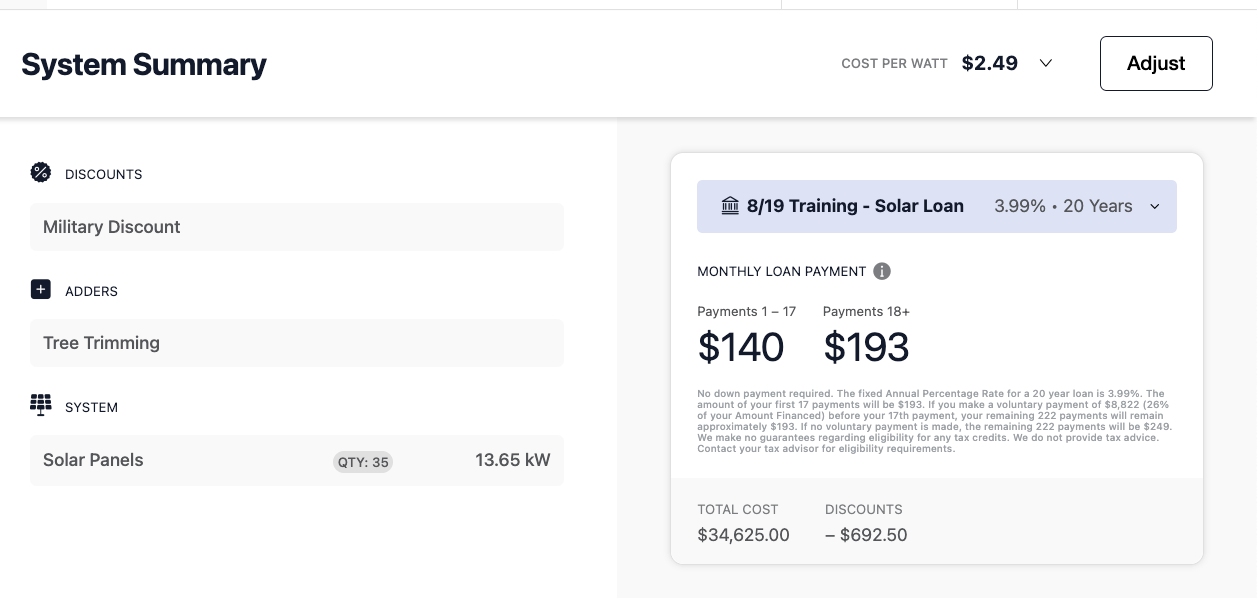 How to set your system price
To view the pricing configurations, click the 'Adjust' icon in the top right-hand corner.
Set your $/Watt (DC)
Select any Adders
Select any Discounts
Select any Incentives
Toggle the associated Adder/Discount/Incentive on or off
If in-line editing is enabled, adjust the amount.

Send your proposal
To send your proposal to your customer, click on the three horizontal lines in the upper left-hand corner, then the paper airplane icon to generate a unique URL that can be sent to your customer via email or text.